Coping with COVID-19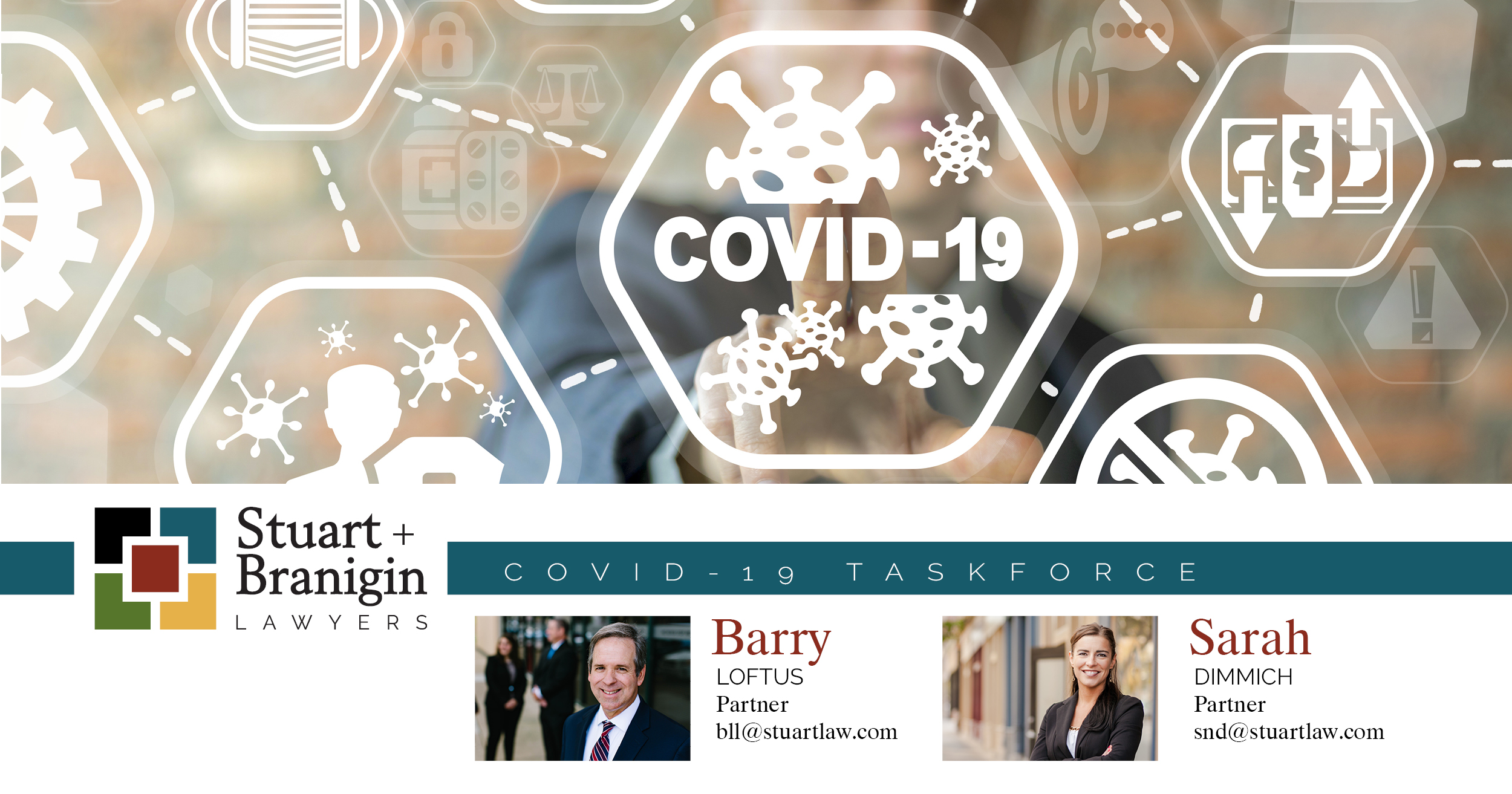 We at Stuart & Branigin are working to keep our clients apprised of the myriad of legal developments as the COVID-19 pandemic continues to impact businesses and individuals across the country. State, federal and local governments are acting quickly, and we will update the information we are sharing with our clients.
COVID-19 Task Force
Please reach out to us for specific legal advice or with any decision-making questions you may have. We are here to help.
Barry L. Loftus
Sarah N. Dimmich
Do you have an insurance claim for business interruption?
Coverage for business interruptions is a common feature of commercial business insurance policies.  However, this type of insurance is generally limited to instances where there is a "direct physical loss" or damage to covered property or real estate.  Accordingly, business interruption insurance will not ordinarily cover cancellations, shutdowns or suspensions related to COVID-19.
Insurance policies are very complex legal instruments. If you have insurance coverage questions related to COVID-19, contact Stuart & Branigin LLP.
Indiana Governor's Stay at Home Executive Order
Indiana Gov. Eric Holcomb issued a sweeping executive order on March 23, 2020 (EO 20-08), which encouraged as many Indiana residents as possible to stay at home to reduce transmission of the COVID-19 virus. The order has disrupted in some way nearly every workplace and every residence. The order has several key provisions and exceptions.
Employee Pay & Leave
The Families First Coronavirus Response Act (FFCRA) significantly impacts employers. The two provisions of the FFCRA discussed below will go into effect on April 1, 2020 and will apply through December 31, 2020.
FFCRA authorizes new regulations from the Department of Health and Human Services in consultation with the Treasury Department and the Department of Labor. Once regulations are available, these summary comments may be updated.
Loans, Forgiveness for Small Businesses & Not For Profits
The Coronavirus Aid, Relief, and Economic Security Act (CARES Act) was signed into law on March 27, 2020 and provides relief for small businesses, both nonprofit and for profit. The Paycheck Protection Program provides funding for special emergency loans (emergency SBA 7(a) loans) of up to $10 million for eligible nonprofits and small businesses, permitting them to cover various costs.
Evictions & Foreclosures Moratorium
At the federal level, the Department of Housing and Urban Development (HUD) authorized the Federal Housing Administration (FHA) to enact an immediate moratorium on foreclosures and evictions via HUD No. 20-042 dated March 18, 2020.
Indiana Governor Holcomb signed Indiana Executive Order 20-06 on March 19, 2020. Executive Order 20-06 prohibits the initiation of evictions and foreclosure proceedings on residential real estate or property until the state of emergency is terminated.
Pandemic Impact on Contracts
The COVID-19 pandemic has impacted the ability of many businesses to maintain operations and to fulfill existing contractual obligations. The following legal principles may serve to excuse or delay a party's contractual obligations during the COVID-19 outbreak.

Stuart & Branigin was founded in 1878 in Lafayette, Indiana. Our experienced and knowledgeable lawyers provide trusted counsel to local, regional and national clients. Our firm is composed of five practice groups, Corporate and Non-Profit, Litigation, Personal Injury, Private Client Services, and Transportation.