Employer Services
Developing sound and accurate employment policies is the most effective way to manage liability.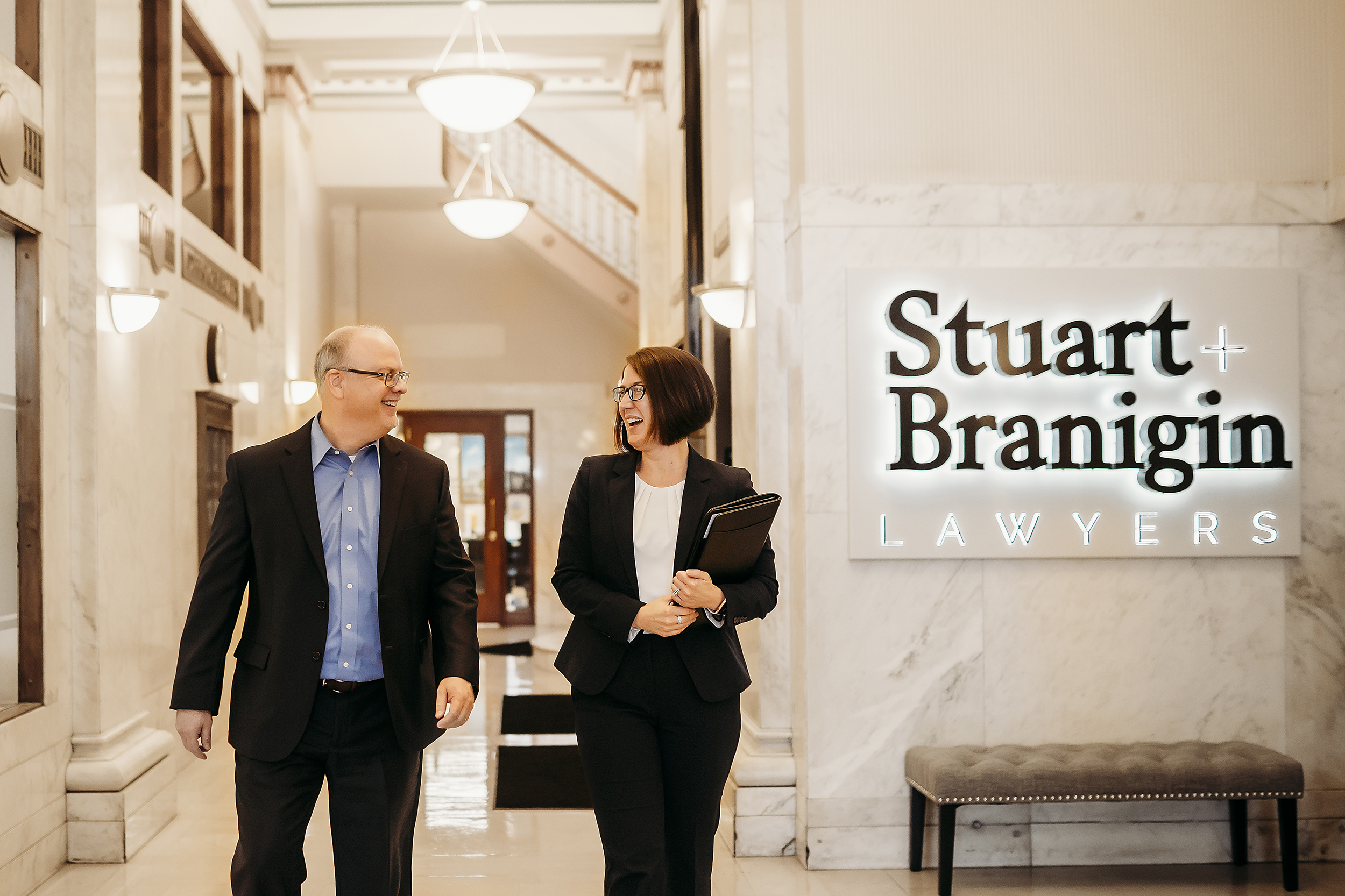 Protecting your business is our business.
Employers are subject to a complex range of constantly evolving laws and regulations that govern the workplace. Creating and implementing well-crafted employment policies can help reduce exposure to costly litigation. Stuart & Branigin has provided guidance in virtually every area of employer services for over a century. Our clients vary widely and so do their legal needs. Our guidance is tailored to the unique interests of each client. Our employer counseling services cover a broad range of employment matters, including hiring and firing, disciplinary practices, severance negotiations, executive compensation, workplace protocol, and privacy policies and procedures. We also advise larger clients on acquisitions, mergers, contract negotiations and other high-level endeavors. With the help of Stuart & Branigin, businesses can understand how the law affects their bottom line.
Stuart & Branigin means business.
HR managers and small-to-medium sized companies look to Stuart & Branigin for guidance on a broad range of employment compliance matters. Stuart & Branigin is ready to help in any and every situation. • Personnel policies and procedures • Education and training, including faculty and teacher tenure issues • Employee records and management • Disciplinary protocol and discharge • Recruitment and hiring • Workplace safety, including OSHA and IOSHA compliance • Harassment and discrimination claims • Response to unemployment and worker's compensation claims
Confidence in the face of complexity.
In a perfect world, difficulties in the workplace would be non-existent. Unfortunately, businesses encounter workplace disputes and uncertainties due to changes in the law. Between transactional agreements, employee claims, litigation and disputes, business negotiations, and crisis management, businesses must carefully protect their legal rights. For generations, Stuart & Branigin attorneys have vigilantly helped Indiana employers build and maintain sound legal policies. We are passionately committed to helping employers obtain comprehensive and individually-tailored resolutions. But when litigation becomes necessary, we approach it strategically, fiercely and intelligently. • Mergers and Acquisitions • Contract negotiations • Litigation and disputes • Employee lawsuits • Severance negotiations
Indiana businesses trust Stuart & Branigin to protect their bottom line.
Attorneys at Stuart & Branigin advise businesses in the following areas:
Personnel policies and procedures
Litigation and disputes
Education, including faculty and teacher tenure issues
Employee records
Discipline and discharge
Reduction-in-force strategies
Noncompetition, nondisclosure, separation, severance and other employment agreements
Defense of worker's compensation claims
Response to EEOC or Indiana Civil Rights Commission charges
Compliance with state and federal laws including Title VII, ADA, ADEA, ERISA, FLSA, FMLA, and HIPAA
Compliance training on hiring, discipline, firing, harassment prevention and investigation of employee grievances and harassment charges
Workplace Safety, including OSHA and IOSHA compliance
Recruiting and Hiring
Complex hiring engagements
Executive Compensation Agreements
Stock Option Plans and Deferred Compensation Agreements
Crisis management
Employee and independent contractor classification
Diverse clients. Diverse needs.
Attorneys at Stuart & Branigin represent a broad range of clients and organizations including clients in the following sectors:
Corporations
Universities
Nonprofit organizations
Small businesses
Startups/Entrepreneurs
Agriculture
Transportation
Unions