Dimmich, Hobson, win second defense verdict in CSX FELA case.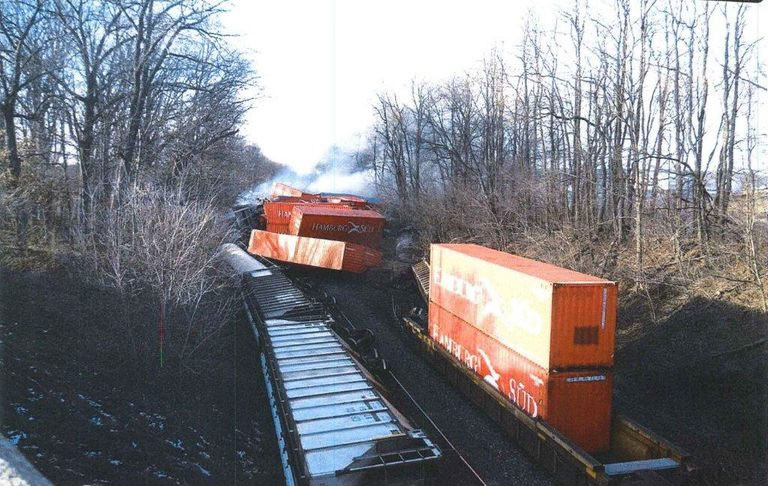 Sarah (Snoeberger) Dimmich and Shane Hobson Deliver to CSX Transportation its Second Defense Verdict in An Admitted-Liability FELA Trial Stemming from 2012 Triple Derailment
The trial of Chance Kelham vs. CSX Transportation ("CSXT") began on February 8, 2016,  in the United States District Court for the Northern District of Indiana, Hammond Division, Judge Andrew Rodovich presiding, and ended on February 12, 2016 with a verdict in favor of CSX Transportation.   Mr. Kelham was represented by Jim Farina of the Hoey Farina Law firm in Chicago.   CSXT was represented by Sarah Dimmich and Shane Hobson of Stuart & Branigin LLP.
On January 6, 2012, near Westville, Indiana, the CSXT train that Mr. Kelham was operating was struck from behind by another CSXT train, the crew of which is speculated to have fallen asleep.  More than 20 locomotive and railcars were derailed in the accident.  (See photo).  Mr. Kelham claimed that, as a result of the impact, he somersaulted head-over-heels down steps in the locomotive cab, sustaining injury to his back that ultimately required a 3 level fusion in his lumbar spine.  Mr. Kelham, who was 32 years old at the time of the derailment, claimed that permanent restrictions given by his doctor post-surgery prevented him from working as a locomotive engineer – or in any other position at CSXT, for that matter, resulting in a future wage-loss in excess of 1.5 million dollars.  Mr. Kelham hired an attorney and filed suit against CSXT under the Federal Employers' Liability Act ("FELA"), a federal statute that allows recovery for railroad employees injured on the job by negligence of the railroad.  CSXT admitted negligence but took the case to trial on the theory that Kelham was not injured in the derailment.
Mr. Kelham did not request medical care after the derailment and did not tell anyone at CSXT that he had fallen down stairs during the impact.  Skeptical that Mr. Kelham was being truthful about falling down the stairs, and believing that Mr. Kelham's spinal fusion was performed to treat pre-existing spondylolesthesis.
Defense attorney, Sarah Dimmich, showed the jury that Mr. Kelham had a history of the back problems prior to and following the accident, and that the surgery Mr. Kelham underwent was inevitable. She also established that his symptoms were not dormant prior to the incident.
Experts retained by CSXT, Kevin Vosburgh, P.E. and Anastasios Tsoumanis, Ph.D, applied the laws of mathematics and physics to conclude that it would be physically impossible for Mr. Kelham to fall forward in the manner he described as a result of a rear impact.  They also determined that the g-force Mr. Kelham experiences on his spine when he sneezes are more than the g-forces he experienced during this impact.
The jury was instructed by the Court as follows: "To succeed in his FELA claim, Kelham must prove by a preponderance of the evidence that CSX's negligence caused or contributed to his injuries.  CSX 'caused or contributed to' Kelham's injury if its negligence played a part—no matter how small—in bringing about the injury."  Kelham's attorney argued that the derailment caused – or in the very least contributed to cause – his need for surgery, such that CSXT was on the hook for his entire damages claim.
In closing, Mr. Kelham's attorney asked the jury to award him 4 million dollars (1.5 wage loss and 2.5 pain and suffering).  His only pre-trial demand to CSXT was 7 million dollars.  The jury deliberated for about 1 hour and 45 before returning a unanimous verdict in favor of CSXT and against Mr. Kelham.  Post-trial, the judge ordered Mr. Kelham to pay CSXT more than $15,000 to reimburse it for costs incurred in preparing the case for trial.
This is the second defense verdict Ms. Dimmich has secured for CSXT in an admitted liability FELA trial.  Mr. Kelham's conductor, Benjamin Knipp, also sued CSXT in connection with this derailment.  His case was tried in the United States District Court for the Northern District of Indiana, Hammond Division, in February of 2015, and likewise resulted in a unanimous defense verdict.  Ms. Dimmich handles all of CSXT's FELA and grade crossing litigation in Indiana and part of Illinois.

Stuart & Branigin was founded in 1878 in Lafayette, Indiana. Our experienced and knowledgeable lawyers provide trusted counsel to local, regional and national clients. Our firm is composed of five practice groups, Corporate and Non-Profit, Litigation, Personal Injury, Private Client Services, and Transportation.