Stuart & Branigin Honored by Purdue University Board of Trustees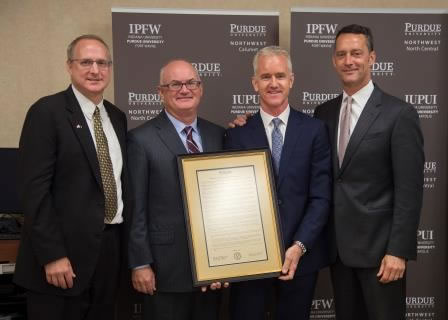 Stuart & Branigin LLP was honored in a resolution of appreciation adopted on June 17 by the Purdue University Board of Trustees, expressing thanks for wise and trusted legal counsel the firm's lawyers have provided to Purdue University for more than 130 years.  The resolution states "The Trustees express deep appreciation for the ongoing work of all Stuart & Branigin attorneys who represent Purdue and its associated foundations in a full range of legal matters, recognizing the value that continues to inure to the benefit of the University from this longstanding and still very special relationship."
Stuart & Branigin partners Thomas B. Parent and William P. Kealey attended the Board of Trustees meeting on behalf of the firm and were presented with the framed resolution.  Parent, chair of the firm's Executive Committee said "It is truly humbling for our firm to be honored in such fine fashion.  We are grateful for the role we have been able to play and for the relationships that we have formed over the many years, and we look forward to continuing and deepening that relationship in the coming years."
For more information about the Purdue Board of Trustees meeting visit The Purdue Newsroom.
For more information about Stuart & Branigin's work with Higher Education clients visit our Education Law page.

Stuart & Branigin was founded in 1878 in Lafayette, Indiana. Our experienced and knowledgeable lawyers provide trusted counsel to local, regional and national clients. Our firm is composed of five practice groups, Corporate and Non-Profit, Litigation, Personal Injury, Private Client Services, and Transportation.