Spotlight on Stuart & Branigin's Summer Associates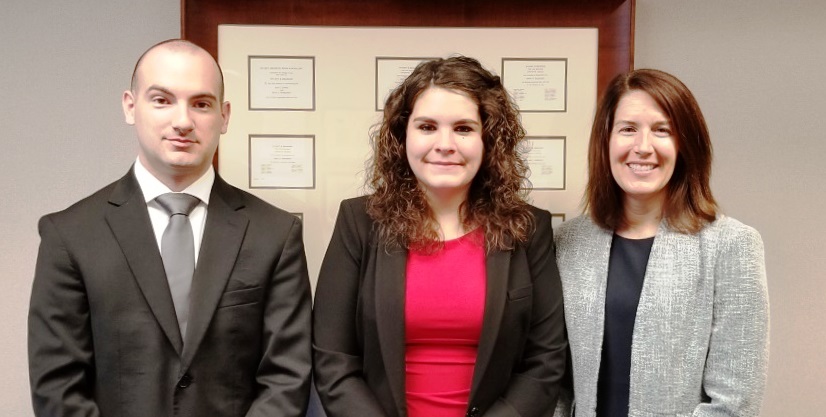 Stuart & Branigin strives to provide summer associates with a realistic glimpse of what life as a lawyer with our firm would be like. They are exposed to as many practice areas as possible, as they perform tasks such as legal research and drafting briefs and memoranda. Our summer associates have also had the opportunity to attend client meetings, depositions and even social community events. If you think you might be interested in joining us as an associate or summer associate, please contact us: Email Recruitment
Meet our 2017 Summer Associates!
Jordan M. Saner grew up in a small town just north of Springfield, Illinois. He received his Bachelor's in Political Science from Southern Illinois University Edwardsville, with minors in Mathematics and Pre-law. Jordan has completed his first year of law school at Indiana Maurer School of Law, where he was awarded Dean's Honors for Fall 2017 semester. He is also a Law Journal Writing Competition Participant with results pending. During his Spring 2018 semester, Jordan was a volunteer in the VITA income tax program, where he helped low-income individuals, as well as students at Indiana University, fill out their federal income tax returns. Jordan is currently an active member of the United States Army Reserve. In his free time, Jordan enjoys traveling and supporting his favorite professional sports teams.
Scotty N. Teal is a proud Purdue Honor's College alumna who is now pursuing her J.D. at Indiana University Maurer School of Law. Scotty is an author presumed for publication in the Indiana Journal of Global Legal Studies. She will also serve as a Managing Editor for that journal when she returns to Bloomington this fall to begin her final year of law school. Scotty was a participant in the law school's Moot Court Competition. She also competed in the law school's Transactional Drafting and Negotiation Competition, finishing in 1st place. Scotty has gained other valuable experience interning at Indiana Legal Services, the Department of Veteran's Affairs, and a juvenile probation center. Scotty enjoys spending time with her friends, reading, and taking nostalgic walks around the Purdue campus.
Shawna M. VanHook spent her last summer at Hall, Render, Killian, Heath, and Lyman, P.C. in Indianapolis and Fall 2017 semester with Indiana University Health Revenue Cycle Services where she gained invaluable experience across various healthcare practice areas as well as employment, compliance and transactional knowledge. Shawna received her Bachelor of Science degree in Industrial Management with a minor in Industrial Engineering from Purdue University. Prior to attending law school, she also maintained a very successful career in operations, logistics, customer service and retail industries with Fortune 500 companies. In her spare time, Shawna enjoys spending time with her family, reading, and running races of various distances from 5K to half marathon.

Stuart & Branigin was founded in 1878 in Lafayette, Indiana. Our experienced and knowledgeable lawyers provide trusted counsel to local, regional and national clients. Our firm is composed of five practice groups, Corporate and Non-Profit, Litigation, Personal Injury, Private Client Services, and Transportation.