Spotlight on Stuart & Branigin's Summer Associates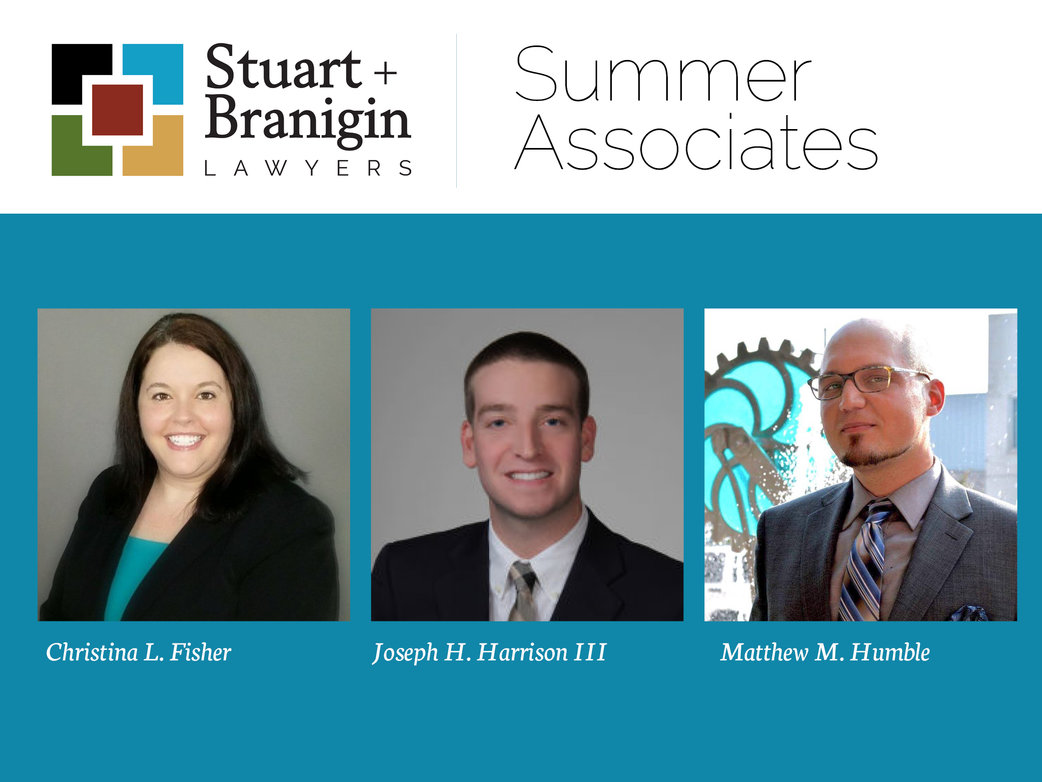 Stuart & Branigin strives to provide summer associates with a realistic glimpse of what life as a lawyer with our firm would be like. They are exposed to as many practice areas as possible, as they perform tasks such as legal research and drafting briefs and memoranda. Our summer associates have also had the opportunity to attend client meetings, depositions and even social community events. If you think you might be interested in joining us as an associate or summer associate, please contact us: Email Recruitment
Meet our 2017 Summer Associates!
Christina L. Fisher served as Administrative Assistant to Judge Elaine B. Brown at the Indiana Court of Appeals and as Director of Continuing Legal Education with the Indiana State Bar Association. Christina also served as Symposium Editor of the Indiana Law Review, and is a member of the Dean's Tutorial Society and Moot Court Boards. She was named to the Order of the Barristers in fall 2015 and competed on both the 2016 and 2017 National Health Law Moot Court Competition Teams. Christina is a representative on the Dean's Student Advisory Board, a mentor in the student bar association's Mentor/Mentee program, and a research assistant in Comparative Law. She volunteers for Friends Fellowship of Indiana, Inc., a non-profit organization dedicated to meeting the needs of incarcerated women and their families. Christina was recently interviewed regarding her experience as a law student, click here to read the article. 
Joseph H. Harrison III is a native of Evansville, Indiana.  Joe has served as an Asset Recovery & Bankruptcy Litigation Law Clerk at the Office of the Indiana Attorney General during the Spring 2017 semester, a legal extern in the Lawrence County Prosecutor's Office during the Fall 2016 semester, and as a judicial intern for Chief Judge Richard L. Young, U.S. District Court, S.D. Ind., in the summer of 2016.  Joe has also worked for a United States Senator and a United States Congressman, pursuing his interest in politics and state and federal government affairs. In his free time, Joe enjoys golfing and supporting his favorite collegiate and professional sports teams.  Joe also remains a proud member of his fraternity, Phi Kappa Psi—Indiana Beta.
Matthew M. Humble is a Purdue alumnus and lifelong Hoosier. Matt has spent the past two summers with Stuart & Branigin, where he has received invaluable experience across our full range of practice areas; from complex First Amendment and employment issues to creditor's rights and personal injury. Before entering law school, Matt earned degrees at Purdue and enjoyed a brief but successful career in restaurant management, providing a wealth of experiences and a variety of perspectives to draw upon in dreaming up creative solutions to challenging problems. When he is not working on important legal matters, Matt spends his time cooking, gaming, and enjoying nature with his dog, Hanzo. Matt is an animal lover and a volunteer for a number of non-profit canine rescue associations.

Stuart & Branigin was founded in 1878 in Lafayette, Indiana. Our experienced and knowledgeable lawyers provide trusted counsel to local, regional and national clients. Our firm is composed of five practice groups, Corporate and Non-Profit, Litigation, Personal Injury, Private Client Services, and Transportation.